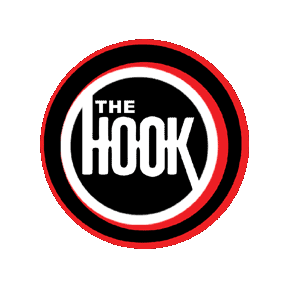 Introducing... 'The Hook' Pop Filters!

The Hook Studios' patented* hand built pop filter screens eliminate the need for goosenecks or improvised attachments. On our strap models, an easy-to-use ©Velcro strip allows the filter screen to attach directly to virtually any professional microphone - new or old. Indispensable for multiple mic setups, these filters are ideal for recording situations where space is at a premium.

Browse samples of our extensive product line below. To purchase one of our current sale items, please visit our Ebay auctions. The Octo-842S and our Mini Pop Filters are also available from B&H Photo. Some of our most popular filters are also available on Amazon. If you are interested in purchasing other items or require additional info, please contact us.
The Hook Studios OCTO-842S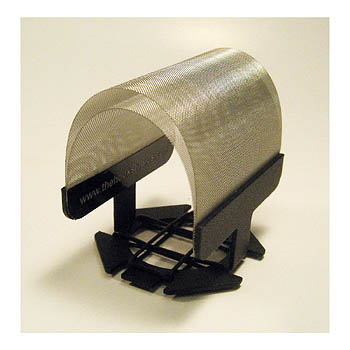 Ideal for voice-over and narration but versatile enough for other studio applications, The Hook Octo-842S is much more sonically transparent than foam type windscreens. This innovative filter installs by simply sliding it directly over the microphone body, allowing easy adjustment of the mic capsule distance from 1/4" to 1-1/2".

The precision mounted rubber O-rings keep the filter on target and on axis. Weighing less than one ounce, the frame is fabricated from light weight aluminum with a durable powder coat finish and features dual "Acoustex" screens. Silver and black screens are available as stock items. Contact us if you require custom configurations.



---
Standard Filter
The following photos show the unique focus presented by our standard filter, and it's distance from a typical mic (Neumann U87) capsule when installed: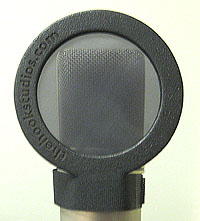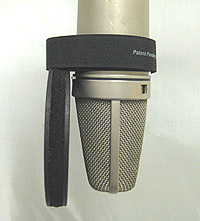 ...Here's the same filter installed on a classic Neumann U47: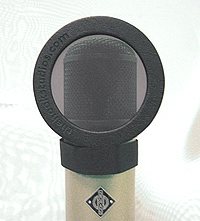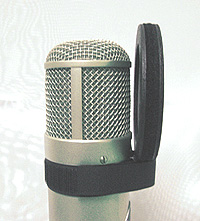 Most of our pop filter models are available as single units or in quantities. Please inquire if you are interested in stand mount versions.
---
Aluminum Frame Filters


| | |
| --- | --- |
| | We currently offer an aluminum frame version of our popular filters in various configurations and colors. |
(click small pictures for a larger view)
| | |
| --- | --- |
| | Stock frame colors are black & gray. |
...We also offer them with Color Frames:


(click small pictures for a larger view)

<! ~~~~~~~~~~~~~~~ End Pix Gallery ~~~~~~~~~~~~~~ !>




To order filters by phone, or to customize the front with your logo of an artist, manufacturer, studio, etc. (additional fee applies), please contact us.



| | |
| --- | --- |
| | Vertically curved frame with a dual layer Acoustex screen, shown here mounted on a vintage Telefunken U47. Outside frame dimensions are 3.625" wide x 4.375" high. |
| | |
| --- | --- |
| | Hook Studios #375 vertically curved "long stem" strap filter, mounted here on a Blue Bottle Rocket microphone. This filter is very popular for use with Apogee mics as well. |
---
Custom Painted Filters


(click small pictures for a larger view)

<! ~~~~~~~~~~~~~~~ End Pix Gallery ~~~~~~~~~~~~~~ !>


Custom painted and one of a kind filters can be made to your requirements. Custom logo setup is extra per unit cost.

<! ~~~~~~~~~~~~~~~ Begin Pix Gallery ~~~~~~~~~~~~~ !>
Handcrafted Color Frames


(click small pictures for a larger view)

<! ~~~~~~~~~~~~~~~ End Pix Gallery ~~~~~~~~~~~~~~ !>

We can provide custom felt color frames, with your choice of felt or cork centers (as shown in the side-view above).



---

TH-PF8-S Mini Pop Filter

Our latest mini filter features a compact octagonal aluminum frame with a sleek, black powder coat finish. The aluminum structure is stronger than comparable materials, yet still weighs less than one ounce. A single black Acoustex hyphobe screen stops moisture from reaching the capsule - the #1 reason for degraded sonic performance of any microphone.

Designed for Apogee mics but usable with other makes, this model replaces our earlier acrylic version. A wider upgraded super-soft hub offers a better fit to the microphone body but retains the patented adjustable strap used in our prior design. Like all our pop filters, this one is handcrafted in the USA.

To purchase the TH-PF8-S filter, please visit Ebay.


---



To inquire about our other products, please contact us.
<! ~~~~~~~~~~~~~~~ Begin Pix Gallery ~~~~~~~~~~~~~ !> More Info & Testimonials | Page 2 >>



*The Hook Pop Filters are protected by Patent #US7946379B1



Home | Rentals | Pop Filters | "Neve" Knobs | Contact